News
Current location: Home - News
Aluminium scrap prices to lack upward momentum in the short term
Apr 7 —In the aluminium scrap market, import restrictions reduced supply, while high and volatile aluminium prices curbed downstream purchase. As it is difficult for prices of traditional gasoline cars, the biggest consumer of aluminium scrap tense, to rise, the sharp increase in the price of raw materials will not be acceptable to buyers.
Price difference between aluminium scrap and primary aluminium to narrow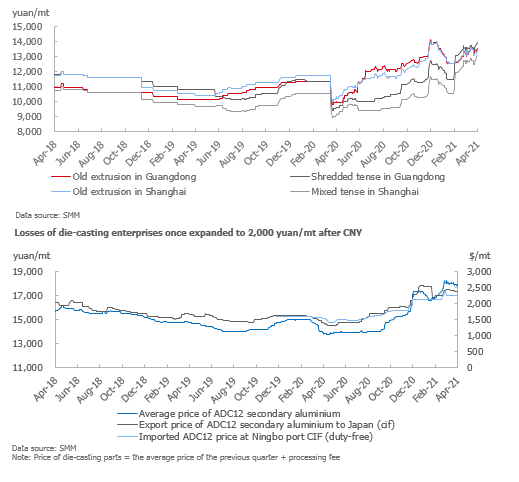 The standards for imported raw materials remain strict. Some importers tried to import raw materials into the domestic market through ports in Guangdong, but it was heard that most of the cargoes were rejected. With the import window still closed, most of the aluminium scrap that arrived recently was ordered before CNY.
Aluminium scrap prices are expected to meet resistance in the short term, but may trend higher later this month if high aluminium pass through to downstream producers and market attention shifts to tight supply, and the price difference between aluminium scrap and primary aluminium will narrow.
The price of ADC12 secondary aluminium stabilised last week, and may remain stable this week. Orders at secondary aluminium producers improved slightly in late March as die-casting companies ran out of inventory and gradually accepted high raw material prices. High aluminium prices have not yet passed smoothly to end-users, and some die-casting companies are facing pressure from automakers to keep prices down. Shortages of automotive chips also curbed orders. Aluminium scrap supply increased slightly, but high raw material prices kept secondary aluminium producers restocking as needed.
WWW.LINGTONG.INFO is China's most authoritative information provider on non-ferrous scrap metals. Once registered, your account will be available on both Chinese and English websites. More information is waiting for you on www.lingtong.info . Register now for free!